Wherever possible Autopontiac likes to lend its support to the UK racing scene especially where it involves an F-Body. This year has been particularly good as we have seen both the 1978 Trans Am of Neville Day and the Andy Chesters 4th Generation Camaro..

Directly, or indirectly, Autopontiac has been there to help, with decades of race experience both drivers and cars have tapped into the wealth of knowledge, beit engine, brakes, suspension or advise on which line to take at what corner at "that" particular circuit. Autopontiac has been there.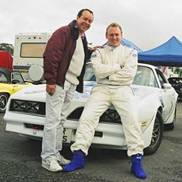 Nevilles 1978 Trans Am has been race prepared at Autopontiac and has been running in the Historic Sports Car Club's 70's Roadsports Challenge series. Last year saw

him placed 19th at Donnington, 15th at Cadwell Park and a very respectable 5th at Silverstone. Things were looking up but personally financing a race car is expensive and Neville has reluctantly pulled out of the series – I'm sure he'll be back.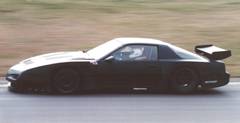 Andy first started his racing career running a 2.8i Capri in both the Slick 50 Road Saloon and Toyo Tyres series Entering 11 races in just 7 months ! His racing licence was obtained and work could start on the proper race car. A 1000+bhp third generation 6.0L twin-turbo Trans Am. This matt black monster hit the circuits like a bat out of hell !!, conspicuous by the absence of colour or sponsorship. Running in the now demised Thundersaloon series the car was unfortunately unreliable and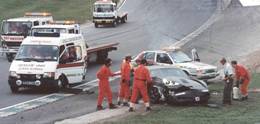 anything over 6lb of boost would start breaking the transmission ! The racing career for this car, and almost Andy himself, came to an abrupt end and Brands Hatch, where fighting to control a 1000 horses at Paddock Hill bend was just too much.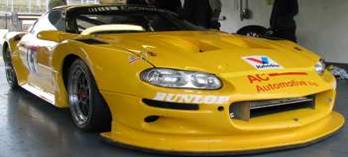 Like a phoenix from the ashes, and in stark contrast arrives the bright yellow Camaro. A more reliable 6.0L, normally aspirated, 1998 Chevy 350 performance block. Currently running in the Formula Saloon Championship. Even after a quick change of rear axel at Brands Hatch in August 2003 (giving only three usable gears) Andy still managed to finish the race and moreover - FINISHING FIRST ! A spin-off at the last meet at the Rockingham Raceway (September 2003) reduced him to a third place finish. Dominated by latter 1990's BTCC touring cars, Nissans Fords and BMW, the Camaro stands out in this series and is well matched in the performance and handling of its piers

Unfortunately, it was not to be. Catastrophic engine failure on the first lap dashed any hopes of Andy and his awesome Camaro taking the championship !!! This went to Steve Hurst and his class B Super Tourer.
It would have been nice, with just two points separating the top two drivers, to have seen a race of it, as this was pretty much a make-or-break, and in the case of the Camaro, it broke ! Another car to mention, also in the running, was the Pontiac powered 6.0L V8 of Rick Wood.
Still lots to see on the very cold and windy Thruxton circuit as other championships were also being fought out, BMW's, Formula Renault, TVR Tuscan, and more. It is hoped that there will an exciting addition to the next seasons racing calendar with Autopontiac – WATCH THIS SPACE FOR DETAILS
Check back for further posts of up and coming events similar to this and to keep up to date with Formula Saloons at http://www.formulasaloons.com/ and the HSCC at http://www.hscc.org.uk/
I look forward to seeing you at "The Races" next season.
- Robin Gray



Check the home page regularly for information and dates of up and coming shows, events and races.