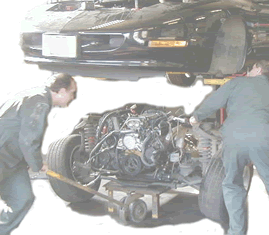 Servicing

All aspects of maintaining the F-Body. Basic oil & filters to full services. Tuning, repairs, restoration and suspension work including modifications and computer diagnostics, performance and suspension upgrades and MOT work.
Booking

All service parts are held in-stock. Service work is usually booked via the telephone, with a lead time from just day or two to a couple of weeks (depending upon the volume of business and the time of year). Routine service work on all models is fairly straight forward and will usually be completed the same day (In at 9am out by 5.30pm). We can accommodate customers with an emergency or breakdown, allowing your vehicle to be recovered direct to our premises immediately.
How we work

In the process of servicing your vehicle we will carry out a full and comprehensive check and report, preliminary MOT check and brake inspection. Any item found in need of attention, over and above routine service work, we will contact you with the report and any additional costs. Any additional work will only be carried out once we are authorised to do so by yourself. This may incur an extended stay for your vehicle and is dependent on its age, type and the amount of extra work required.
Whats Included

Most vehicles require a major service and check-over at 12,000 miles or once a year (whichever comes first) and F-Body's are no exception. Depending on the year ('67 – '02) and model type, this may or may not include the following :
Points, Condenser, Spark Plugs, Air & Oil Filter, Fuel line filter, Oils & Greases. Checking Brake Pads, Discs, Drums, Shoes and any necessary adjustment. All under car levels (gearbox, differential etc.), greasing steering and suspension including door hinges. Carburetor / throttle body cleaning, adjusting and ignition setting all to manufactures specifications. Checking operation of all lights and electrical equipment.
Interim servicing
The life blood of any engine is the quantity and quality of the oil used. Autopontiac routinely use Kendall
motor oils (unless otherwise specified by the customer). Due to the relatively small amount of oil that the American V-8 engine holds (compared to its European counterpart), its low viscosity and susceptance to contamination, Autopontiac recommends that your oil and filter are changed every 3,000 miles. Pre-booked, this can be carried out on a "while you wait" basis.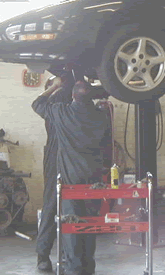 Safety Checks

Seasonal and interim safety checks help keep your car 'healthy' between services by targeting the main causes of breakdown. FREE, pre-booked, brake check, including lights, pipes, pads and fluid.
Other Work

Whilst servicing is important, other items covered may not be quite so obvious. Autopontiac can carry-out general repairs which include standard replacement, repairing or rebuilding :
Reconditioning : Engines, Gearboxes, Axles
Replacing : Discs, Drums, Wheel bearings, Suspension and Steering items, Coil springs,
Leaf springs, Exhausts, Shocks, Glass, Interiors, Electrical items, Wheels and Tyres.